---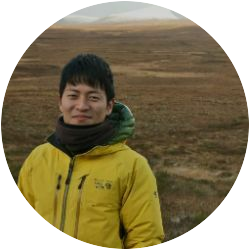 Dr. Morimaru Kida
Morimaru Kida is an assistant professor of the Graduate School of Agricultural Science of Kobe University where he co-organizes the Soil Science Laboratory. While centered on Organic Geochemistry and Soil Science, he is keen to apply a range of analytical and statistical tools burrowed from different fields such as limnology, marine geochemistry, and ecology. He is broadly interested in cycling and fate of organic matter in terrestrial and aquatic environments. His favourite site is mangrove forests because (obviously) he can collect both soil and water samples.
Review experince (in alphabetical order): Biogeosciences, Estuarine, Coastal and Shelf Science, Frontiers in*, Limnology, Marine Chemistry, Nature Reviews Earth & Environment, Organic Geochemistry, Scientific Reports, Science of the Total Environment
---
M1 students
Ayuri Ohira
Theme: Elucidating the molecular heterogeneity of dissolved organic matter that governs its long-term persistence.
Maho Oshimoda
Theme: Investigating black carbon dynamics in the soils after biochar amendment in a temperate secondary forest.
Kota Hamada
Theme: Characterizing soil organic matter evolution along the chronosequence of mangrove plantation.
B4 students
Yuki Konishi
Theme: Environmental and mineralogical drivers of mineral-associated organic matter abundance in soils collected all over Japan.